Here are just some of the past and present Lehigh Valley & Pennsylvania area establishments Joe has performed at:

Butternut Inn - Pleasant Corners, PA
The Livewire - Easton, PA
The Chit Chat Club - Bethlehem, PA
Patrick's - Quakertown, PA
Minsi Trail Inn - Bethlehem, PA
Citizen's Fire Company - Emmaus, PA
The Captain's Table - Allentown, PA
The Riegelsville Hotel - Riegelsville, PA
Palmer Fire Company #2 - Easton, PA
Ye Olde Ale House - Allentown, PA
Raubsville Inn - Raubsville, PA
Klecknersville Hotel - Klecknersville, PA
Lutheran Manor - Bethlehem, PA
Rosini's Tavern - Perkasie, PA
Last Chance Saloon - Tamaqua, PA
Silver Creek Country Club - Hellertown, PA
Saucon Valley Country Club - Bethlehem, PA
Easton Eagles Club - Easton, PA
Appleford Estate - Villanova, PA
Holy Family Manor - Bethlehem, PA
Hatfield Fire Company #1 - Hatfield, PA
Hershey Lodge - Hershey, PA
Allentown Art Museum - Allentown, PA
Hotel Bethlehem - Bethlehem, PA
Iron Lakes Country Club - Allentown, PA
Alexandria Manor - Bethlehem, PA
First Presbyterian Hall - Bethlehem, PA
Richlandtown Inn - Richlandtown, PA
Traditions of Hanover - Bethlehem, PA
Moravian Hall Square - Nazareth, PA
Kirkland Village - Bethlehem, PA
Center Valley Tavern - Center Valley, PA
Masonic Temple - Easton, PA
Coopersburg Moravian Hall - Coopersburg, PA
Trinity Memorial Lutheran Hall - Emmaus, PA
Kirkridge Retreat Center - Bangor, PA
Allentown Jewish Community Center - Allentown, PA
Union UCC Fellowship Hall - Neffs, PA
West Lawn United Community Center - Reading, PA
Moravian Village - Bethlehem, PA
Four Seasons Clubhouse - Macungie, PA
Woodstone Country Club - Danielsville, PA
Trinity Lutheran Social Hall - Lansdale, PA
Hope Lutheran Fellowship Hall - Cherryville, PA

....plus numerous private and Corporate events!

Check back for Public Appearances
Live Lehigh Valley Music Honky Tonk Sing Along Piano Player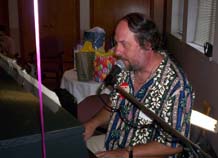 Joe keeps Old Time Piano Entertaining alive!
Unique Lehigh Valley Pennsylvania Music
      A typical performance can include:

      - Background Music
      - Audience Requests
      - Honky-Tonk style piano playing
      - Sing alongs
      - Interactive Participation
      - Music History & Trivia
      - Guest "Audience" performers and more!
If there were any Awards for "Fun" Musical Performance Entertainment, Joe would definitely be on the ballot!

Private Parties are a Specialty !


Roaring 20's Speakeasy Party night !



Holiday Parties are always a hit !
Book your sing-a-long party NOW
Christmas Party Piano Sing Alongs are the BEST!!!

Joe is an experienced Party Piano Player

Joe hosted the Lehigh Valley Patsy Cline
Appearance Anniversary Tribute
A special Lehigh Valley Music celebration


In-Home Parties are the best!



Click below to contact Joe:














Joe's appearances have included the
Hershey Lodge & Convention Center:

The Hershey Lodge
W. Chocolate Avenue
Hershey, PA  17033


---
Joe has provided party entertainment
at Appleford near Philadelphia:


Appleford Estate
770 Mt. Moro Road
Villanova, PA  19085


---
Joe has performed Holiday Sing-alongs
at the Historic Hotel Bethlehem:


Hotel Bethlehem
437 Main Street
Bethlehem, PA  18018

---
Joe has provided corporate entertainment
at the Allentown Art Museum:


Allentown Art Museum
31 N. Fifth Street
Allentown, PA  18101

---
 Be it a banquet hall, restaurant, bar, or private club,
Joe can easily adapt to the audience.
He is a unique solo Local Lehigh Valley Pennsylvania Musician!
Honky Tonk Sing Along Piano


Lehigh Valley Pennsylvania Party Piano Player and Entertainer
Honky Tonk & Sing Along Piano Music a Specialty!


Joe entertaining at the Hotel Bethlehem



Sing along with Joe to those classic songs!

Joe supports all Lehigh Valley Bands and Musicians



Piano Party Music - Always a Good Time


 

Group Sing-Alongs are the best !!!

Joe Lazorik - Lehigh Valley Pennsylvania Piano Player for hire for parties and corporate events





"Ye Olde
Piano
Sing Along"


Way back when, every bar had a piano with a local piano player. Often the patrons would sing along to his music.

Today, Joe is THAT piano guy!

Come on out and support Joe and other Lehigh Valley Pennsylvania Musicians!

Sing along with Joe today
to classic tunes from yesteryear!

Piano Joe Lazorik - Lehigh Valley Pennsylvania Party Piano Player and Entertainer for hire
Joe supports all Lehigh Valley Music & Pennsylvania Musicians and Performers

Joe playing an old Nickelodeon Piano
at the Bowers Hotel



Need a formal presentation? Joe can perform
"The Great American Piano Show"
highlighting popular music from the last 120 years
and how many songs have still survived today.
For a Birthday Party, Anniversary, or special event, a customized GTPM program can be arranged.
zzzzzzzzzzzzzzzzzzzzzzzzzzzzzzzzzzzzzzzzzzzzzzzzzzzzzzzzzzzzzzzzzzzzzzzzzzzzzzzzzzzzzzzzzzzzzzzzzoe Lazorik specializes in parties with Ragtime Honky Tonk and Piano Sign Alongs. Joe is a unique Live Local Pennsylvania Piano Player, Entertainer, Performer, and solo Musician!
Ragtime Honky Tonk and Piano Sign Alongs. Inreeactive Entertainment. Joe is a unique Live Local Pennsylvania Piano Player, Entertainer, Performer, and solo Musician!
More info on Joe and what he can provide for you and your guests:
Old-time Piano n (old-tym pee-ah-no) - The style of piano playing found primarily in public venues of performance between 1890 and 1929, particularly in drinking establishments and at Ragtime competitions, consisting of popular songs of that era, including traditional jazz, Ragtime, and early stride piano.  This genre of popular music was indigenous to the United States and the prevalent form of social entertainment.

Fact:  A hundred years ago the piano was the most prized possession in the entertainment circle.  In the early days of the Colonies, more pianos were imported into this country than there were people! Honky Tonk Sing Along Ragtime Piano Music is as old as the piano itself too!

The Great American Songbook - A hypothetical construct that seeks to represent the best American songs of the 20th century principally from Broadway theatre, musical theatre, and Hollywood musical film from the 1920s to 1960, including dozens of songs of enduring popularity. The Great American Songbook became a vital part of the repertoire of many musicians but unfortunately is becoming lost with today's generation. Over the last several decades, there has been a revival of the Songbook by contemporary artists which will hopefully keep this great music alive.

Joe Lazorik (proudly born and raised in Bethlehem, PA) is a unique Pennsylvania piano player musician and entertainer who has brought "Old Time Piano" into the 21st Century encouraging song requests, sing alongs, group participation, audience "guest" performers and more!  (Often, those in attendance become the entertainment for each other.)  You'll also hear music you haven't heard in years including many selections from "The Great American Songbook" that will stir up guaranteed memories of Good Times!

On stage, Joe presents his creation of "The Great American Piano Show" highlighting musical favorites from the 1890's to 1970's along with stories, trivia, audience participation, and explains how people have connected to music over the decades which became part of their lives. Ragtime Honky Tonk Sing Along piano is Joe's Specialty! Live Local Piano Music like it used to be, right here in Pennsylvania and at an affordable price too! Sing along Honky Tonk
     In addition to Honky-Tonk and Ragtime selections, Joe's performances always include an assortment of standards and classic hits from artists like:  Frank Sinatra, Billy Joel, Al Alberts, Patsy Cline, Connie Francis, Tony Orlando, Judy Garland, The Beatles, Herman's Hermits, The Four Aces, Elvis Presley, Debbie Reynolds, Louie Armstrong, Jimmy Buffet, Roy Orbison, Gene Kelly, The Carpenters, Roger Miller, Bobby Darin, Burt Bacharach, Lesley Gore, Neil Sedaka, Dion, Elton John, The Mills Brothers, and more!  Plus, Joe provides song sheets with the words to these great songs so YOU can sing along too!  Also take a trip down memory lane with music from TV shows and commercials long forgotten but easily remembered.  Sometimes impromptu silliness breaks out while interacting with the audience and there's no telling what will happen next!  All of this together is why "Good Times Piano Music" is the best way to describe Joe.  Truly unique Honky Tonk Piano Sing Along Lehigh Valley Music!
Joe has been told by many that he is not just a Piano Player, but a Piano Entertainer!
If you want a live local party piano player performer and entertainer for your Birthday Party, Anniversary Gathering, Holiday Office Party or Special Event - Joe is your man for Ragtime & Honky Tonk Sing Along Piano! Unique Lehigh Valley Pennsylvania Piano Music Entertainment
Oldtime  
Keyboard

Here are a few contributed multimedia samples of Joe in action:

Joe accompanies a little Blues and Salad with Connie Edinger
Watch some Song parodies or Party interaction videos now!!!
Enjoy LIVE Ragtime "Player Piano" Music samples from Joe
Check out "Piano Joe" broadcasting the weather from Musikfest

Joe supports all Lehigh Valley Piano Players, Singers, Bands, and Musicians
Special thanks to all who recorded these and sent them in for everyone to enjoy!
For booking info, e-mail:  Joe@GoodTimesPianoMusic.com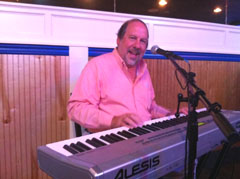 Piano Entertainment for Parties in the Lehigh Valley



Joe also shows support for other Lehigh Valley Musicians and hopes you will too!

If you know Joe personally, please connect with him on



Facebook: www.facebook.com/GoodTimesPianoMusic

Twitter:



"Good Times Piano Music" and "GTPM" has been listed, along with other entertainment in Decidio Party Planning.
Be sure to consider a known referenced musician like Joe Lazorik for your Lehigh Valley Music and Piano Entertainment needs!
Your attendance in Pennsylvania at ArtsQuest events, Allentown Mayfair acts, Bethlehem Musikfest shows, local club appearances and support of the Lehigh Valley Music Awards is always appreciated by those who perform live local Lehigh Valley music.


Important: As usual, Joe would like to personally thank everyone for their continuous support of all Lehigh Valley Musicians and Bands and reminds you of the importance in our community of this vital role. Through your attendance at musical performances either at Musikfest, Mayfair, ArtsQuest, local clubs, or private shows, you are encouraged to continue to show your support for these local Lehigh Valley Pennsylvania musicians who sincerely appreciate your involvement!

Be sure to support the local Lehigh Valley musicians that perform at Musikfest Cafe in the ArtsQuest SteelStacks complex in Bethlehem, PA.
---

Copyright 2017 - "Good Times Piano Music"
Joe Lazorik - Lehigh Valley Piano Entertainment
Coopersburg, Pennsylvania
Joe Lazorik - Lehigh Valley Piano Player Entertainment serving Allentown, Bethlehem, Easton, Ackermanville, Alburtis, Ambler, Bangor, Bath, Bethlehem Township, Bloomsbury, Blue Bell, Bowmanstown, Breinigsville, Catasauqua, Center Valley, Cherryville, Conshohocken, Coopersburg, Doylestown, Dublin, East Greenville, East Texas, Egypt, Fogelsville, Fort Washington, Frenchtown, Hamburg, Hatboro, Hatfield, Hellertown, Horsham, Jim Thorpe, Klecknersville, Kutztown, Lansdale, Laurys Station, Lehighton, Leithsville, Limeport, Lower Gwynedd, Macungie, Montgomeryville, Moorestown, Nazareth, Neffs, New Hope, Norristown, Northampton, North Wales, Orefield, Palmerton, Pen Argyl, Pennsburg, Perkasie, Philadelphia, Phillipsburg, Pleasant Valley, Plymouth Meeting, Pottstown, Raubsville, Reading, Red Hill, Richlandtown, Riegelsville, Rosetto, Saylorsburg, Schnecksville, Seemsville, Sellersville, Slatedale, Slatington, Souderton, Spinnerstown, Springtown, Stewartsville, Stockertown, Tatamy, Telford, Treichlers, Trexlertown, Trumbauersville, Quakertown, Walnutport, Warminster, Warrington, Wescosville, Whitehall, Willow Grove, Wind Gap, Zionsville. Joe's piano coverage for party entertainment also includes: Lehigh County, Northampton County, Monroe County, Carbon County, Schuylkill County, Berks County. Montgomery County, Bucks County, Chester County, Deleware County in Pennsylvania. Joe's piano coverage also includes: Warren County, Hunterdon County in New Jersey.  Good Times Piano Music can also be located on Google, Yahoo, or Bing by searching for: Lehigh Valley Music, Pennsylvania Piano Player, Lehigh Valley Musicians, Pennsylvania Musicians, Lehigh Valley Piano Players for hire, Lehigh Valley Bands, Party Piano Player for hire, Lehigh Valley Corporate Entertainment, Lehigh Valley Party Entertainment, Lehigh Valley Party Entertainers, Entertainment, Lehigh Valley Piano Joe Lazorik, Honky Tonk Sing Along Piano Player available, and MySpace Piano Joe Lazorik. Thank you for your continued support!!